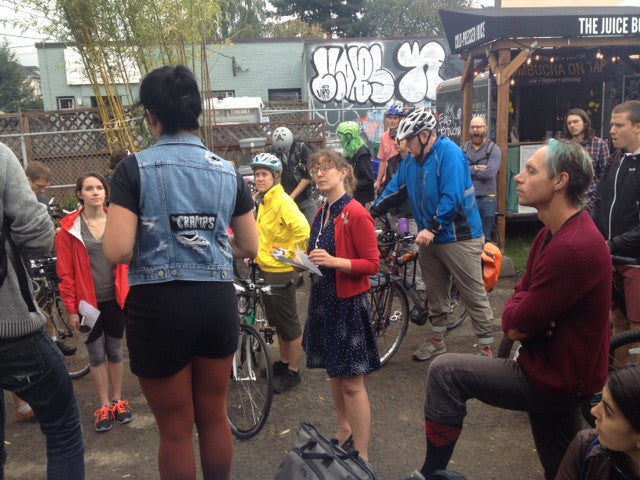 Last week talented and charming Nutcase product designer Meghan Sinnott lead a new kind of ride, in search of the latest set of art murals painted in the town of Portland, Oregon.
Meghan is a veteran leader of a number of epic bicycle rides: she has helped organize Portland's World Naked Bike Ride, a number of Portland's Tweed rides, the Midnight Mystery rides and numerous others.
Meghan loves to dress it up and dress it down and she's a master of ride orchestration.
This fall Meghan decided to encourage us all to see more art, not just inside of frames and museum walls, but out on the streets of the city.
So, working with the excellent local organization
Forest For The Trees
, Meghan took the list of murals around town just put up in
2015
(!) and proceeded to design an excellent bike ride to visit many of them.
Forest For The Trees (FFTT) dedicates itself to creating public art in Portland. For the last three years, FFTT has had a festival where artists, both local and international, come and paint murals.
Meghan pieced together a ride that showed us a lot of art in a short space of time via two wheels. She also encouraged everyone on the ride to actually see that art exists all over the city, not just on big, bold, wall-sized murals, but also in smaller-sized bits.
And, best of all, Meghan got to show off our own contribution to street art, a helmet from this year's Unframed campaign called Freakalicious.
Forest For The Trees Mural Ride - PDX from AllenInk on Vimeo.
Freakalicious is one of three 2015 Unframed helmets. It's the second year of this successful campaign to take fresh art and put it on our helmets, and three of the helmets designed by Unframed artists are already available – Cloud Nine, Locombia, and Boogie.
Designed by Brazilian-born artist Tiago DeJerk, the Freakalicious helmet is a party on your head. Just debuted at the Eurobike and Interbike 2015 shows, Freakalicious will be available to distributors and in our online store next spring.
Even better, it's that time again!
Right now, from this very moment (actually from last Friday at around 2:30 p.m.) you can start working on a design for our next iteration of the Unframed campaign – Unframed 2016.
Our official start for this, the third annual 'Call for Artists,' is one week from today, but you can get the jump on now by downloading the design template and/or passing it along to friends and family.
We hope to challenge you to make a piece of art that everybody wants to have on their head.
Have fun, get creative, and SEE ART!