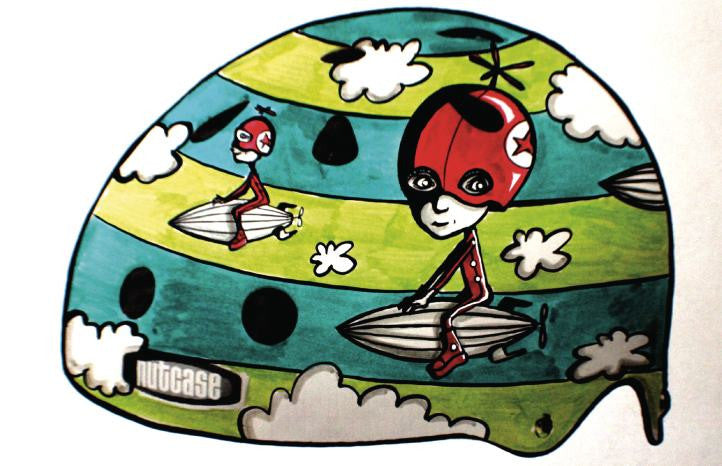 Here it is: the moment we've been moving toward for the last six weeks. Our Unframed 2016 helmet design contest closed at midnight, November 30. Below you are ALL the designs, in full living color. What a display! Now comes the hard part. Our panel of judges will sift, and sort, and debate, and decide.
We will announce our finalists on Monday, December 14th. And our design winners on Friday, December 18th.
Tell us what you think in the comments below. To read more about the artists' conception of their works, visit the first installment, second installment, third, fourth, and final installments.
To check out the first set of artist helmets available right now, go here. And if you want to get notices about the Nutcase Unframed program, please give us your email below:
No. 1, USA
No. 2, USA
No. 3, Mexico
No. 4, France
No. 5, Indonesia 
No. 6, USA
No. 7, Argentina
No. 8, USA
No. 9, Chile
No. 10, Chile
No. 11, USA
No. 12, Australia
No. 13, Australia
No. 14, Australia
No. 15, Mexico
No. 16, Australia
No. 17, Canada
No. 18, Canada
No. 19, Netherlands
No. 20, Netherlands
No. 21, Mexico
No. 22, USA
No. 23, USA
No. 24, Mexico
No. 25, USA
No. 26, Australia
No. 27, Belgium
No. 28, Belgium
No. 29, Belgium
No. 30, Belgium
No. 31, Belgium
No. 32, Belgium
No. 33, USA
No. 34, Canada
No. 35, Canada
No. 36, New Zealand
No. 37, New Zealand
No. 38, Mexico
No. 39, Mexico
No. 40, Mexico
No. 41, USA/Vietnam
No. 42, Spain
No. 43, Australia
No. 44, USA
No. 45, Czech Republic
No. 46, Australia
No. 47, USA
No. 48, USA
No. 49, Germany
No. 50, Germany
No. 51, Germany
No. 52, Germany
No. 53, Mexico
No. 54, USA
No. 55, Canada
No. 56, Argentina
No. 57, Argentina
No. 58, Argentina
No. 59, USA
No. 60, USA
No. 61, Uganda
No. 62, Netherlands
No. 63, Philippines
No. 64, USA
No. 65, USA
No. 66, USA
No. 67, USA
No. 68, USA
No. 69, USA
No. 70, USA
No. 71, Australia
No. 72, USA
No. 73, USA
No. 74, Germany
No. 75, USA
No. 76, USA
No. 77, USA
No. 78, Spain
No. 79, Spain
No. 80, Spain
No. 81, Spain
No. 82, USA
No. 83, USA
No. 84, USA
No. 85, USA
No. 86, Slovakia
No. 87, Slovenia
No. 88, Slovenia
No. 89, Catalonia (Spain)
No. 90, Spain
No. 91, New Zealand
No. 92, New Zealand
No. 93, USA
No. 94, Argentina
No. 95, Argentina
No. 96, Argentina
No. 97, Argentina
No. 98, Argentina
No. 99, Argentina
No. 100, Argentina
No. 101, Hong Kong
No. 102, Hong Kong
No. 103, Hong Kong
No. 104, Hong Kong
No. 105, Hong Kong
No. 106, Hong Kong
No. 107, Philipppines
No. 108, New Zealand
No. 109, New Zealand
No. 110, New Zealand
No. 111, New Zealand
No. 112, Chile
N. 113, Chile
No. 114, Chile
No. 115, Chile
No. 116, Chile
No. 117, Chile
No. 118, Mexico
No. 119, Canada
No. 120, Canada
No. 121, Canada
No. 122, USA
No. 123, USA
No. 124, USA
No. 125, Columbia
No. 126, Mexico
No. 127, USA
No. 128, USA
No. 129, USA
No. 130, USA
No. 131, USA
No. 132, Australia
No. 133, Australia

No. 134, Australia
No. 135, Uganda
No. 136, Chile
No. 137, Chile
No. 138, Philippines
No. 139, Chile
No. 140, Chile
No. 141, Chile
No. 142, Chile
No. 143, USA
No. 144, Chile
No. 145, Philippines
No. 146, USA
No. 147, USA
No. 148, Chile
No. 149, USA
No. 150, USA
No. 151, USA
No. 152, USA
No. 153, USA
No. 154, USA
No. 155, USA
No. 156, USA
No. 157, USA
No. 158, Canada
No. 159, Lebanon
No. 160, Mexico
No. 161, USA
No. 162, Spain
No. 163, USA
No. 164, Argentina
No. 165, Czech Republic
No. 166, Czech Republic
No. 167, Czech Republic
No. 168, Czech Republic
No. 169, Czech Republic
No. 170, Chile
No. 171, Australia
No. 172, Australia
No. 173, USA
No. 174, Mexico
No. 175, Mexico
No. 176, Australia
No. 177, Colombia
No. 178, Sri Lanka
No. 179, USA
No. 180, USA
No. 181, Canada
No. 182, Belgium
No. 183, Belgium
No. 184, Belgium
No. 185, Belgium
No. 186, Belgium
No. 187, Belgium
No. 188, Hong Kong
No. 189, Colombia
No. 190, Colombia
No. 191, Czech Republic
No. 192, Czech Republic
No. 193, Philippines
No. 194, Philippines
No. 195, Philippines
No. 196, Germany
No. 197, Germany
No. 198, Germany
No. 199, Germany
No. 200, Czech Republic
No. 201, Lebanon
No. 202, USA
No. 203, Chile