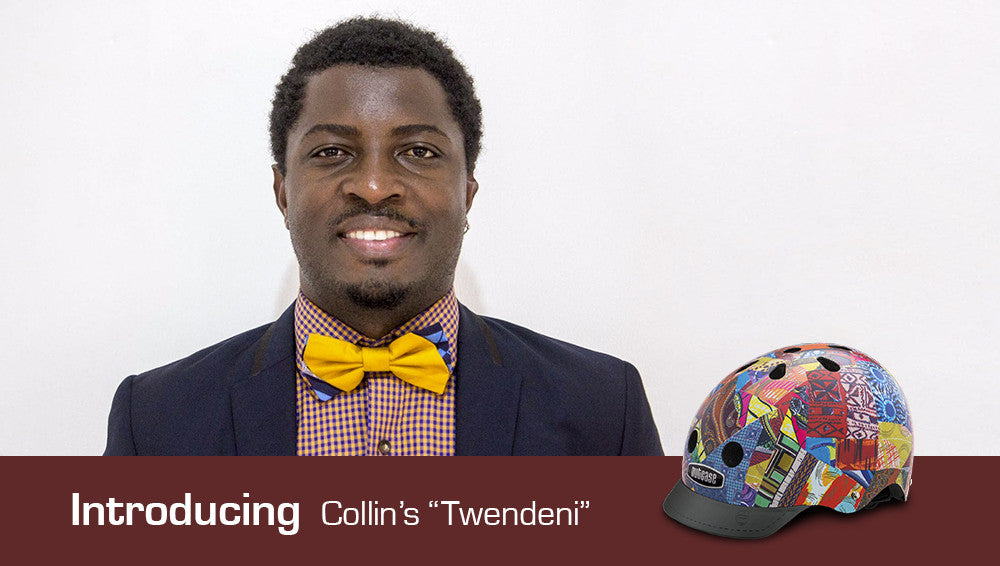 Collin Sekajugo submitted his Unframed helmet design back in 2015.  
His patchwork style was compelling to us as we had never seen anything quite like it on a helmet before. We researched Collin and his work and discovered he's an avid advocate for helmet safety in Africa and does collage work on motorcycle helmets to raise awareness.  Below is a photo of Collin wearing one of his creations.
Due to the nature of the medium he was working with (namely paper and glue), special care had to be taken to get high-resolution photos of one of his pieces of art so that we could digitize it and get the art on our template.
The end result is a vibrant piece of art that features traditional fabrics from the countries within Africa that he's called home throughout his life.
So why the name Twendeni?  Twendeni (pronounced too-end-eeh-knee) is Swahili for "let's go." Collin speaks all the national languages of the East African region i.e Kiswahili (Kenya and Tanzania), Kinyarwanda( Rwanda), Kirundi (Burundi) and Luganda (Uganda) fluently, but he chose the Swahili as it is the most widely spoken language in black Africa.
Find detailed images of this limited-edition helmet on our webstore.