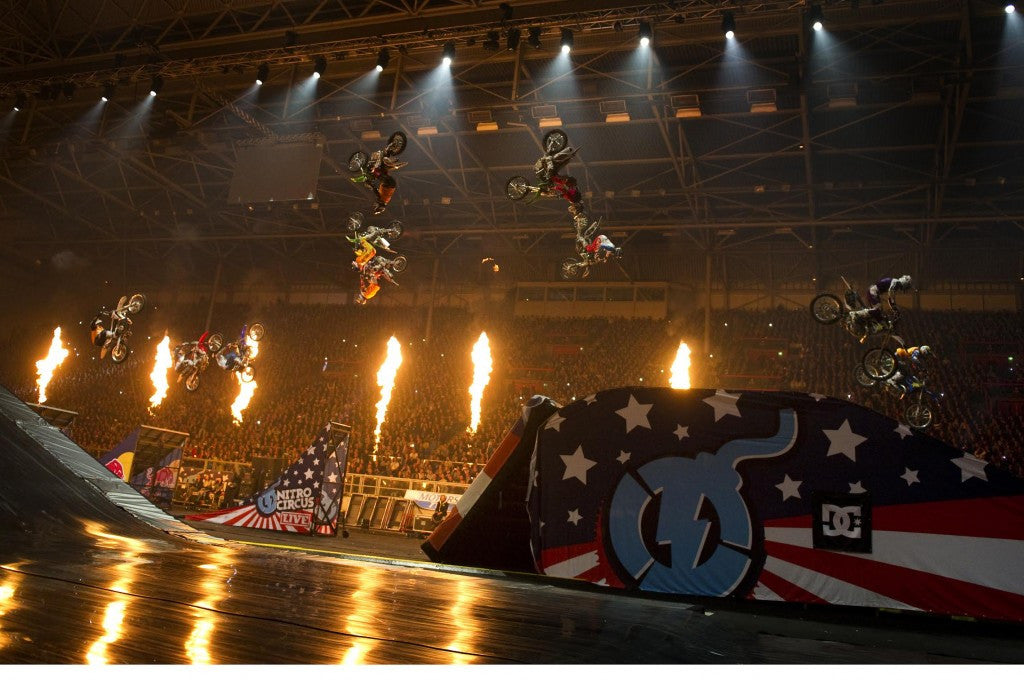 It might not seem immediately obvious why a Portland-based helmet maker like Nutcase should partner with the group of talented action-sports experts putting on some crazy entertainment known as Nitro Circus.
Look at it this way: there's a streak of sports enthusiasm that runs a mile deep and at least a meter wide in Nutcase founder Michael Morrow.
Nutcase actually came to be from Michael's extreme love for a sports team (read that fascinating tale of fandom here).
So once you realize Nutcase evolved out of Michael's love of sport and his desire to create a different kind of helmet for urban sports enthusiasts, partnering with the the extreme action-sports stunt experts at Nitro Circus makes a bit more sense.
We love that they push the envelope of absolutely crazy things you can do on a bicycle (and on a motorcycle, in a car, and in a truck).
We, on the other hand, can't do stunts. Instead, we try to push the envelope of what will look great on a helmet, so that people like us will want to wear one, and protect their brains while they do all the things they love to do.
Nitro Circus's founder Travis Pastrana is another passionate soul – as a kid he always tried to outdo his athletic siblings and cousins with his unique talent for taking risks and devising stunts.
From the age of 15, Pastrana had careers in motocross, rally, NASCAR, and monster truck racing. Pastrana also participated in the X Games, and developed a close relationship with many of the other athletes. Eventually he and a group of friends formed an "action sports collective" that created a reality TV show and a movie, and went on tour with an entertainment called Nitro Circus.
Nitro Circus draws huge crowds of people eager to see these disciplined and well-trained athletes risk their lives in awe-inspiring stunts.
As Pastrana noted in a recent interview, there is constant pressure for Nitro Circus performers to do bigger and better stunts. Pastrana also feels an equal responsibility, though, to make his collective performers constantly safer. It's often about how the ramps are designed that most of the jumps and flips are performed on.
In our Nitro-Nutcase partnership, we get to give away some free tickets to the current Nitro show tour.
Want to see for yourself how exciting a Nitro Circus show can be? Click here to see the requirements, and don't wait – we pick our next winner this Wednesday.