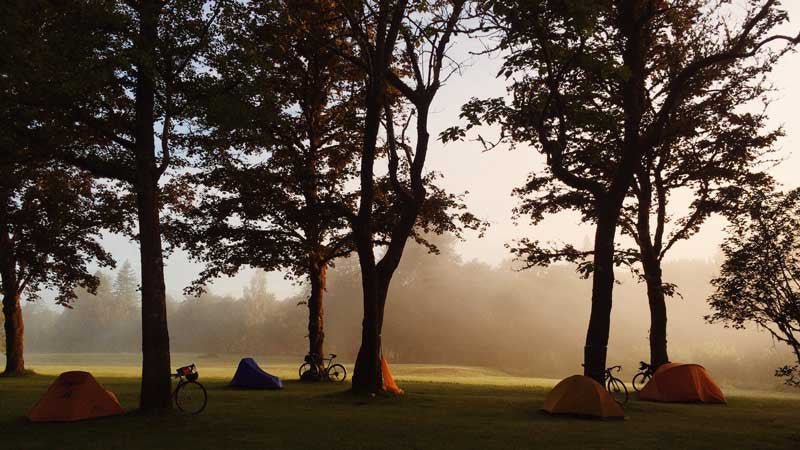 What did you get into over the holiday weekend? We Nutcases were an active bunch, out backpacking and bike camping and century-riding, brunching and traveling, near and far. A few of our employees shared their Memorial Day weekend escapades — we hope you got out there, and made good use of your Nutcase, too!
From Meghan, Marketing Manager:
I biked around in Bend with friends from
ORBike
and
Argonaut Cycles
on Thursday
night.
Friday
morning, I tooled around the Newberry National Volcanic Monument, sneaking in a bit of gravel riding.
Saturday
I rode the
Art of the Survival Century
in the Tulelake/Klamath falls region. It was my first century ever!
From Chris, National Sales Director:
My daughter, Sylvie, & wife, Laurie, & I, backpacked along the Oregon coast, along
this route
. We bunked in a shelter the first night and visited with fellow backpackers (one was an acquaintance from Portland that I had met, but didn't really know, but I know him now), lunched in Cannon Beach after seeing a plethora of wildflowers in Ecola state park along with amazing vistas. The second night was spent being lulled to sleep by waves in sleeping bags on the beach just north Hug Point where we awoke to Bald Eagles diving into the surf and witnessing the circle of life as a seagull ripped into a live crab.
From Zach, Website & Webstore Manager:
"I went bike camping out at Stargazer Farm near Sandy, OR with a crew of folks from Swift Industries, Stumptown Coffee, Sun Liquor, and Hipcamp in preparation for the #swiftcampout on summer solstice. We made camp roasted coffee, enjoyed gin and tonics (with housemade tonic!) on tap, rode the scenic Marmot Road out towards Mt Hood, and hung out by the Sandy River."
From Morgan, Graphic Designer:
I went to San Diego for the wedding of two of my best friends! The weekend included the coast, plenty of wine, and an absurd amount of terrible dance moves. 
From Miriam, co-founder and "Mrs. Nutcase":
I celebrated my Birthday with a few neighbors/friends with a new type of "bowl" cocktail, a "MIRhattan"! long straws for all~
From Dave, in Customer Service and Inside Sales:
For my Ironman training, I had to complete an Olympic distance triathlon on Saturday.  But since there were none scheduled close by, I had to map out a .9 mile swim, 26 mile bike ride and 6.2 mile run course on my own.  Success!
From Kendall, Manager of Product Creation:
I spent the weekend at Sunriver with my littles, soaking up sun and family time. Outdoor activities included bike-riding, swimming, sun-bathing, bouncy-house jumping, hot-tubbing, diaper-changing and sno-cone slurping. Sadly, we got stuck in traffic on the way home. Happily, this was our view while stuck in traffic.
From Lisa, Events and Promotion:
I headed out to Joseph, Oregon, out in the Wallowa Mountains.
From Shari, in Customer Service and Inside Sales:
Saturday morning rode a 30 mile bike ride around Clackamas county with a couple girlfriends. Still had more energy so signed up for doubles tennis Saturday evening. Got whooped for about 3 hours!! Slept well. That only motivated me to wake up Sunday morning and play singles with another friend for about 2 hours. This time I did the whooping!  Regrouped, then went on a hike 5 mile hike in Forest Park to catch up with my sister.  We hiked on a section of the Maple Trail I've never experienced before, beautiful. Monday I installed my new window air conditioner and cleaned my entire apartment. I'll be ready when we have 10 consecutive days of 90* weather.   All in all, a productive long weekend.
From Shawna, Finance Manager:
Well, we didn't do anything as cool as a bike camping trip or mini triathlon but we did bring my oldest son home from college and then went to breakfast
on Monday
!