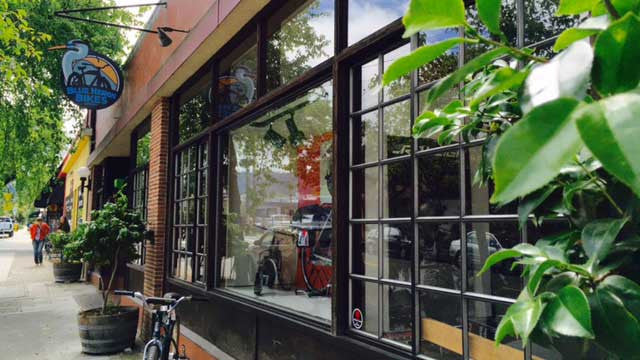 Blue Heron Bikes, in Berkeley California opened it's doors in June, 2012 by Rob Allen, with the help of Jeremy Till. Rob was born and raised in Berkeley and started his bike career in 1972. Today Blue Heron has 4 employees, Chris, Tobe, Sonja and Nadia.
Located on the Ohlone Greenway, East Bay's North-South Class 1 bikeway that follows the BART right of way, Blue Heron still offers riders free air and is the essential service that brings riders off the Greenway and into the shop.
Blue Heron Bikes is focused on two wheel pedal powered transportation, with electric assist options. This spring, Blue Heron is excited about Shimano STEPS electric assist bikes in city versions and cargo bike big capacity versions.
A favorite helmet in the shop is Little Nutty and Bob says that the "Ladybug" is consistently the top seller. They also do a brisk business in the newest addition to the Nutcase family, "Baby Nutty". Rob explained, the Baby Nutty was the "best new product introduction ever". The shop has the Baby Nutty at $49.95 and another brand at $30. Bob says that Nutcase "is a way better product and seller" "I now stock all the Baby Nutty colors just to be sure they do not sell out."
Heron is a fun loving shop that occasionally does nutty bike rides to commemorate special occasions, like the shop anniversary and to honor a special employee and reminded us that they are delighted to have 2 pink flamingos in the shop thanks to the Nutcase promotion we did in honor of our "Pink Flamingo" helmet.