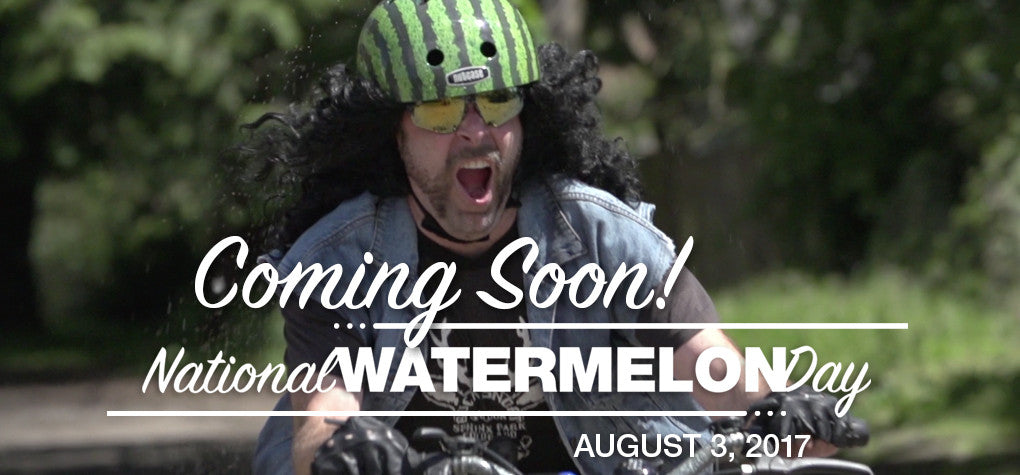 Back in 2004, when Michael Morrow was just starting to think about a helmet to rule all helmets, it was a watermelon design that he decided to test out first.  So, a watermelon was purchased from the local grocery store which acted as a model for the design, and when the sample helmet came back from the factory -- it was clear -- this was going to be one rockin' helmet.  
To this day, our Watermelon helmet is still turning heads.
If you're already lucky enough to own one of these classic helmets, then mark your calendar for National Watermelon Day on August 3rd so that you can be certain you protect your melon with pride that day.
For those out there who don't have a Watermelon helmet, we're here to help you celebrate in style by jumping on the #watermelondress bandwagon.  Have you heard of this craze that is sweeping Instagram?
How does it work? It's easy!  The person who takes the photo simply holds a tiny watermelon dress - cut from a real watermelon - close to the camera to create the illusion that the person in the background is wearing the watermelon dress.
We think #watermelonhelmet is just as charming, but one should never ride without a certified Nutcase Watermelon helmet, so we're helping you out a bit by providing you with a cut out of a cut out of a #watermelondress and a #watermelonhelmet to try on for size before you commit to the real thing...
Think you'd rather skip the fuss and have a real Watermelon helmet be shipped right to your front door for free?  Order one today.