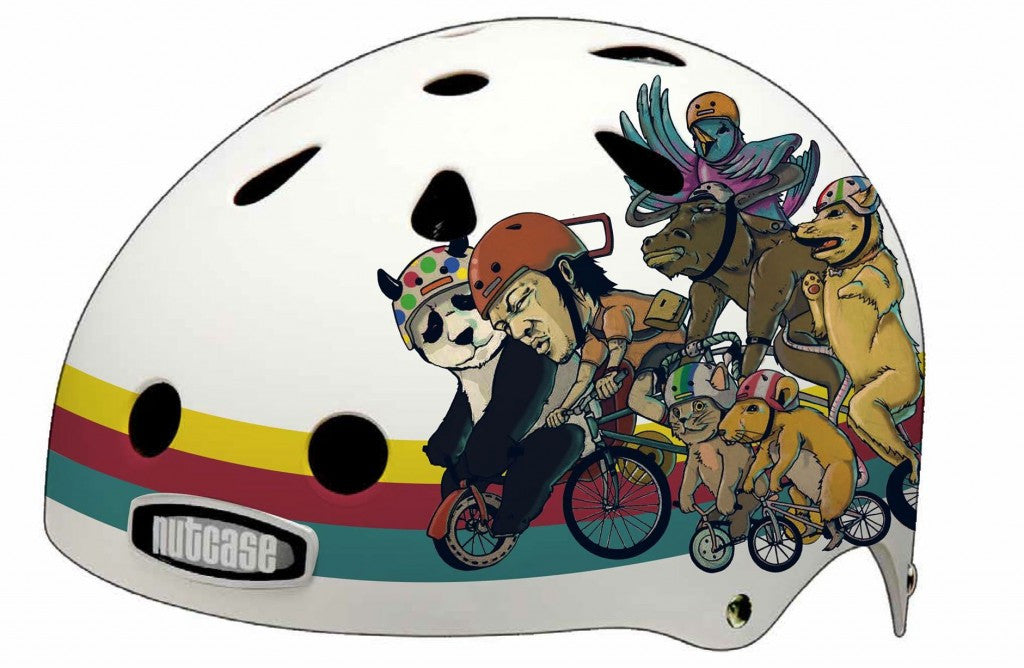 Today is the last day of submissions for our Unframed 2016 helmet design contest.
And the creativity is streaming in fast and furious. It's an explosion of color and craft, design and deliciousness.
There's still time. Pick up our template here. Read more about the contest here.
But no dawdling – the submission period ends at midnight tonight.
Next Monday we'll show the last set of submissions, and on Wednesday December 9 we will give you the full panoramic view of ALL 208 submissions. Check it out and let us know what your favorites are. On Monday, December 14th we will announce the finalists, and on Friday, December 18, we will finally announce the winners of the 2016 Unframed program.
But for now, here is the fourth set of submissions:
No. 56, Argentina
"I'm Italian, and I love realism and oil painting. Every two years I spend six months in the U.S."
No. 57, Argentina
No. 58, Argentina
No. 59, USA
"I love biking and I love creating art! Our community recently had a bike helmet design contest to benefit biking in the area. I created this design which I call "Cellular". It is based on the concept of looking at cells under a microscope. The different patterns and colors are magnified on this helmet."
No. 60, USA
"I am 6 years old. My mom submitted a helmet design and I wanted to, too. I just did a report on bees for my first grade class. We need to protect the bees and we need to protect our heads."
No. 61, Uganda
"I am a Rwandan Ugandan visual artist. My work is mainly about social conscience and healing. Through my work, I am always developing concepts on the elements that build or destroy our societies. [This design portrays] what I believe Africa is today. It's a warm nice place with a lot of diversity in terms of culture, environment, and food. And most importantly Africa is a great place travel to; to mingle with people, to take hikes or ride a bike, on various terrains – "Africa is safe."
No. 62, Netherlands
No. 63, Philippines
"This fast-paced modern era has taken its toll on nature, people hustle just to survive the daily grind of reality. They tend to rely on the things that colossal corporations provide them without even considering the pros and cons or the cause and effects of these actions. Technological advancements provide ease and comfort for people yet have left a deep scar on the environment, and we are still wounding what is still left as I speak. This Helmet design is geared toward sustainability, A whimsical world where other creatures co-exist with humans unselfishly, providing a better living for every one of us in this home, a place called earth."
No. 64, USA
"Adventure Cycling Newsletter brought this contest to my attention. Road, Urban, Adventure, Commuting, Mountain bicycling, and the sheer joy a self-propelled mechanical advantage brings informs this design."
No. 65, USA
I love making art that is interactive, collaborative, and that helps in some way. And I am a Nutcase wearer for years, so this seemed like a perfect fit. Botjoy is a 7 year art experiment , to date I have painted over 31,000 domino robots and scores of giant botjoy murals all over the globe.The world needs more Bots because for some reason (that frankly I don't completely understand) they seem to help.
No. 66, USA
"I'm an avid bike rider in Los Angeles, California, who happens to have been doing graphic design since the days before everyone had a cell phone. When I'm not creating design work, I do quite a bit of woodcutting and printing."
No. 67, USA
"Feathers, fins, scales, fur and antlers are the inspirations for this design. When I ride hard, I like to imagine all the animal spirits are with me. I used symbols of different animal outer layers to suggest a variety of kingdoms. The symbols are simple so individuals can add their own ideas of which animal they see. Recently, I moved to the mountains of Montana to focus on my painting and have a new experience."
No. 68, USA
No. 69, USA
No. 70, USA
"Long-time bicycle mechanic and hippie enthusiast!"
No. 71, Australia
"I am an eco-friendly artist who works predominately with recycled materials. The above submissions are made from heat-fused recycled plastic bags with the hope of drawing attention to saving the planet from the over consumption of plastic waste. Plastic is an ecological disaster. It clogs our waterways, kills our marine animals and has serious consequences for our health. My work is deliberately loud and colourful, the brighter the better. It screams to be seen!!"
No. 72, USA
"I'm a long-time fan of your headgear. Although I can no longer ride, I still keep my cracked gumball helmet as a reminder that, once, able to fly. When I received the email promo for the competition, I decided I had nothing to lose by sharing my colorfully textured artwork, possibly having it sported by heads of all description. Most of my art evokes movement. This seems a natural tie-in for the energy and cool the Nutcase line brings to the market."
No 73, USA
No 74, Germany
No. 75, USA
"Long-time cyclist, bike shop employee, NYC urban commuter, women's program manager, abstract painter!
No. 76, USA
"I'm a 25 year-old multidisciplinary artist living in Minneapolis, Minnesota. As a creative I feel most fulfilled when my work is engaged in community activities and inspiring others to realize their own creative potential through freedom, spontaneity, and the limitless bounds of the imagination. Recently, my work has included mural painting, skateboard graphic design, and creative mentoring with non-profits in my local community."
No. 77, USA
No. 78, Spain
"I'm a freelance graphic designer."
No. 79, Spain
No. 80, Spain
No. 81, Spain
No. 82, USA
"I'm an artist and a bike mechanic living in Boulder, CO. I have some previous experience painting a few custom helmets for athletes, but I really enjoy painting large, contemporary, illustrative, acrylic and charcoal paintings. Breaking into that art scene is tough here, so every opportunity like this is great."
No. 83, USA
No. 84, USA
No. 85, USA
No. 86, Slovakia
"I'm a fashion designer from Slovakia. I was brought to this competition by a lucky accident, some of my work was featured on a lifestyle blog that also featured your work and a link to your website. I've always been fascinated by clothing and curious about the way people dress. Communicative self-expression through clothes is like an open dialogue without words – a wordless statement – a manifestation of free speech. "
No. 87, Slovenia
"I am a freelance illustrator who specializes in graffiti, traditional, and digital illustrations.  I love the name and concepts of the helmets and that's what gave me the idea for the designs."
No. 88, Slovenia
No. 89, Catalonia , Spain
"I had a white helmet and I wanted something more fun, so  painted it. I get many compliments. In this case the helmet is used in Eugene, OR, where it is supposed to rain a lot, so I wanted something colorful to contrast with the gray of the clouds."
No. 90, Philippines
"I'm a self taught artist and I love to draw."
No. 91, New Zealand
"I am an avid bike lover – from road, to mountain, to (novice!) bmx. At the beginning of the year I had a crash at the skatepark, landing in my head after a jump and ending up with quite a bad head injury. It's taken me a long time to even be allowed to get on my bike, and even longer to overcome the fear. But getting back on my bike is worth the struggle and I am thankful everyday that I was wearing a helmet or it wouldn't even be a possibility. The green is where the brain is most engaged when riding a bike."
No. 92, New Zealand
"Helmets should be fun and bold. This one even allows the user to engage with it, coming with a bird poop sticker to apply to the target."
No. 93, USA
"I work in stained glass and am currently inspired by animals that can teach us adaptations for a better life. The octopus is extraordinarily intelligent and "plays well with others" so it occurred to me that this was a GREAT application for your helmets. And, you already have the "eyes" on your helmet for the animal!"
No. 94, Argentina
"I draw and paint with oils, acrylics and watercolors and using digital art. I 'm used to painting large areas.
No. 95, Argentina
No. 96, Argentina
No. 97, Argentina
No. 98, Argentina
No. 99, Argentina
No. 100, Argentina
No. 101, Hong Kong
"I love Nutcase and have bought a helmet for my son, and I was about to buy another one and happened to see the competition. I love painting and the designs I submitted are from my paintings, one is Chinese painting and the other is acrylic."
No. 102, Hong Kong
No. 103, Hong Kong
No. 104, Hong Kong
No. 105, Hong Kong
No. 106, Hong Kong
No. 107, Philippines