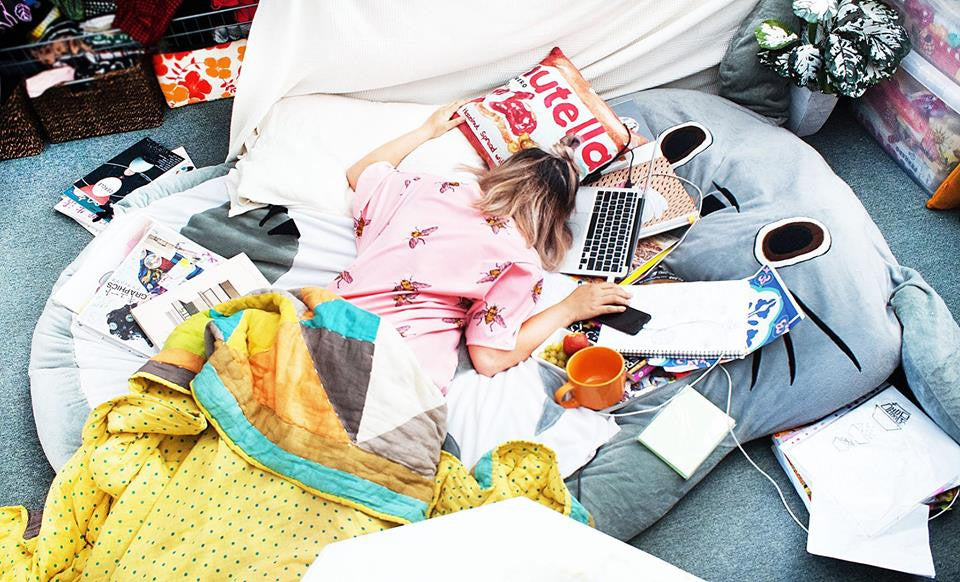 For the fourth annual Unframed competition, we've whittled down the competition to five amazingly talented artists.  We're nearly finished interviewing the semi-finalists to learn a bit about them before we made the decision of who will make the next cut.
The third semi-finalist we've interviewed is Nani Puspasari.  We were immediately charmed by her sense of humor and style.  Read her interview below and tell us what you think!
Tell us about the design you submitted.  What inspired it?
I started by positioning myself as a customer. The first question I asked myself was, "Why do I wear a helmet?" It's because I want to protect my head while riding my bike. The keyword for this concept is "Protection." My illustration features a pattern of different type of people wearing helmets.
Where were you born/where did you grow up and how did that shape you in to an artist?
I was born in a small island in Borneo, Indonesia with beautiful nature surrounding me. I was the type of quirky kid that got bored easily and liked to make things with my hands. I fell sleep easily during class, but was always excited when it came to craft and drawing class. I remember having so many random doodles in each of my notebooks, not to mention that once I got yelled by my kindergarten teacher because I drew things on a school table. My drawing wasn't good back then, but practice always makes us better. I was just starting to study graphic design (17 years old) at university when I met a local artist and befriended with him. Since then, he has continued to invite me to contribute artwork to a lot of group exhibitions in my town. I feel I can freely express myself through painting and create all kind of dream worlds from my imagination. I moved to Melbourne, Australia by myself in 2008 to study Fine Art and fell in love with this city immediately. This city is known as one of the world's great street art capitals for its unique expression of art displayed on approved outdoor locations throughout the city. 
What is your goal as an artist?
Since I'm getting older and more mature, I'm wanting to focus on creating artwork with great content and storytelling, not only beautiful visuals. I love to create things that make people laugh and feel happy. On the other hand, I want to giving back to our community especially to spread the message through my art about humanity since our world is getting screwed up these days. Recently I've been working with a lot of non-profit companies (End Child Detention, ChilOut – Children Out of Immigration Detention, Art for Change, YGAP, and IWDA – International Women's Development Agency) to create visuals for their campaigns.
Can you tell us about any fun projects you've worked on recently?
I've been hooking up (friend with benefit) with ceramics lately. I spend 2 days a week in my home studio smashing clay and creating fun/funny hand-built ceramic objects. From bacon plates, boobies, plant pots, self portrait ashtray, "Fck Yo pin, earrings for vegans, miniature plates for donuts and pizza, watermelon brush holder and many other weird creations. I also just finished a couple of different murals for restaurants in Melbourne. Meanwhile, I started working on a collection of work for my solo exhibition early next year in Melbourne, Australia. 
How'd you hear about the campaign?
I found out this campaign through local design community Facebook group. Yan Yan "Candy" Ng, the previous winner of Nutcase Helmet Competition was posting info about this competition.
Where can we find your art online? 
Tell us something funny about yourself.
I'm addicted to travel and bacon. I laugh and fart in my sleep. I have three second memory (like that of a gold fish). My friend once mentioned that I don't need drugs to get high ;D
Anything else you'd like us to know about you or your art?
I lost count of how many times of my friends have called me crazy but I'll do my best to keep creating more fun and meaningful artwork to create a better fantasy world to live in.
————–
The judges have until the first of the year to make their final decision on who makes it to the next round.  In the mean time, follow Nani's art online and let us know what you think!