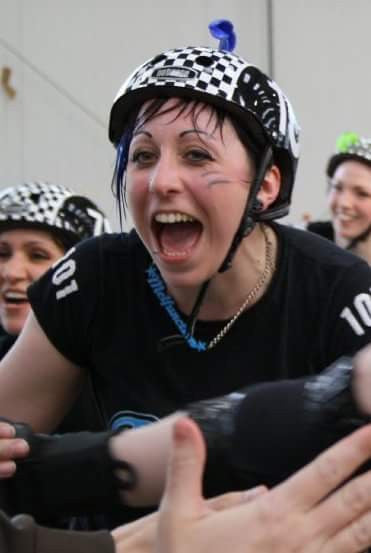 For the fourth annual Unframed competition, we've whittled down the competition to five amazingly talented artists.  We want to take a little time to get to know the semi-finalists a bit before we made the decision of who will make the next cut.
The second semi-finalist we've interviewed is Mel Langton.  Her bright, intricate submission garnered the most community support and comments out of all of the entries. 
Tell us about the design you submitted.  What inspired it?
My style is quite bold and graphic and my work often features strong, feisty female characters, so I wanted to create something that had aspects of that, without it being specifically a ladies design. I have recently been creating images based around the theme of contortionism and a couple of those designs have featured mermaids tangled up in fishing ropes. I liked the idea of a tangled design incorporating an octopus or Kraken like creature, along with the mermaid and ropes, as the tentacles become a nice decorative device to surround the helmet shape. My mermaid is a tough cookie though, barely batting an eyelid at this giant monster, as although she is also tangled up she is holding the fishing hook and looking rather unperturbed.
Did you have any other thoughts on designs that didn't make the cut for this helmet?
I had been playing around with designs featuring eyes, mouths and paint splats (I do love paint splats!) as they could make quite a bold and interesting design, and the yelling mouths relate to the sport of Roller Derby and communication on track. I was worried that may appear be too specific to just Roller Derby though, and look a little violent to anyone unfamiliar with the sport!
Where were you born/where did you grow up and how did that shape you in to an artist?
I'm originally from Leicestershire and have been drawing ever since I can remember. My mum's good at drawing, so she must have passed her skills to me, and so I would always be at home sketching, making things, gluing cardboard and cutting out bits of shiny paper. On Sundays my dad would take me out in to the beautiful countryside of Leicestershire and Rutland for long bike rides, and I would sometimes take my sketchpad to drawer the boats. I still cycle everyday now as an adult, which is more for the commute than for leisure, but I love getting away to the countryside on my bike whenever I can. Much like running, cycling offers freedom that blows away the cobwebs and gets the creative juices flowing.
What is your goal as an artist?
I have a real hunger to create new work and I love to create work that people enjoy, that makes them smile or laugh, or nod in recognition when they spot something specific that I've hinted at within it. I have produced artwork ranging from portrait commissions and band logos to t-shirt designs and public art installation, so to me one of the greatest feelings is when you see a piece of your own work displayed on someone's wall or on their t-shirt or on the backdrop at a concert.
What is your preferred medium for art?
I love vectors and so create a lot of my work digitally, but I have an equal passion for pencil and paint. I work a lot in acrylic ink, which I love for its bold, clean colours, which suit my graphic style, but the ink allows a fluidity that I find can't be replicated as expressively using digital methods alone. I also like painting on slate as it's very tactile and beautiful to paint on.
What fun art projects are you working on at this time?
I have just completed a charity art show fundraiser called The Femmes of the Fens, which I jointly curated and created artwork for, to raise money for a local domestic abuse charity. We asked local female artists to create pieces based on local ladies they found inspirational to themselves. Some of the subjects were famous names, but many were regular people but who had each provided great inspiration to the individual artists for very personal reasons. I'm delighted to say the show was a great success and not only helped to raise some money but also highlight a very important charity. Now that the show is complete I am working on commissions in time for Christmas and preparing my pieces for my stall during the Lincoln Christmas Market, which is one of the biggest Christmas markets in Europe. I'm also preparing to start work on a very exciting public art trail next year, but it's all rather top secret at the moment!
Where can we find your art online?  
www.mellangton.com
www.facebook.com/mellangtonart
www.twitter.com/MelLangtonArt
www.instagram.com/mellangtonart
www.etsy.com/uk/shop/MelLangtonArt
Tell us about your roller derby experience.  What was your derby name?
I skated with the Lincolnshire Bombers Roller Girls for 6 years and my skate name was Total Melfunction. When I started I was absolutely terrible and couldn't even stand up on skates, and it took me weeks before I could manage a lap of the track, but I was completely hooked. With my determination to keep going, and the support and encouragement of my amazing teammates, I not only made it to the Travel Team, but also became Captain for a season, and the team still use me as an example to their newbies on why they should never give up! My time with the Bombers included many adventures I could never dream of, such as playing in Europe, being involved with awesome tattoo and bike shows and even skating on stage with the band Motorhead! The amazing world of Roller Derby really is filled with blood, sweat and tears, but opened up so many opportunities to me, but most importantly it introduced me to some of the most kick ass, courageous and inspirational people I could ever meet, and I feel privileged to call my friends. There is a huge amount of artwork I've created for the team over my years with them, and when I decided to at last retire from the team so that I could devote my time to my artistic adventures, I had their full support. The team still continues to wear my artwork on their team kit, so I will always be with them.
—————————–
We won't know for a few more weeks who makes it to the next round, but in the mean time, follow Mel's art online and let us know what you think!