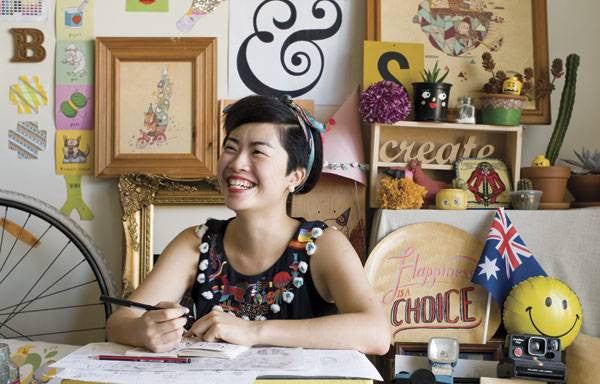 Our work with the Unframed 2016 helmet design artists intensifies! Here is our chat with Hong Kong-to-Melbourne artist Yan Yan Candy Ng.
Nutcase: Where were you born or where did you grow up and how did that shape you into an artist?
Yan Yan: I was born in Hong Kong; the majority of my childhood was spent doodling, reading comics, watching TV and being extremely shy/socially awkward. My parents sent me to drawing classes during summer holidays and I loved to draw for as long as I can remember but I never thought it would be part of my career. Moving into high school I started to take more of an interest in fine art and spent a lot of time painting after hours. After high school I moved to Melbourne to study graphic design, because I was told it had more career prospects. And during my time working as a full-time graphic designer, I found out that being an illustrator/graphic artist was a real job, therefore I decided to take a leap of faith last year and go back to drawing.
(See Yan Yan's web site here.)
My years in Melbourne and my graphic design background have heavily influenced my creative approach. I became more appreciative and observant of what is around me; such as everyday stories, cycling, food culture, creative community, nature, and road trips. I learned to think creatively and be able to work with different techniques to solve various creative problems. The more I experimented the more I wanted to create and every step I take has helped me to be who I am today.
Nutcase: What was your biggest obsession when you were, say, 13, and how does that compare with your current obsession(s)?
Yan Yan: At the age of 13 – watch TV. Daydream. Read Japanese comics. Doodle what I read/watched.
2016: I still doodle and draw to express myself but now with a purpose to share stories through my pictures. I hope to use my work to bring a positive change to the world even as little as putting a smile on someone's face. It give me a sense of existence and meaning. I am obsessed with making things happen; I will dream about an idea, start planning, and turning it into a reality. Side projects continue to be a strong and effective tool for my personal growth. I love it!
Nutcase: What is your goal as an artist?
Yan Yan: My goal is to stay focused on the creative path; create more (personal and commercial) work and try to make a living out of it. I would love to have a studio to work in one day so I can separate my life and work and have a space to keep all my working tools and artwork.
The artists I look up to are: Oliver Jeffers; Gemma O'Brien; and Brosmind. Their work makes me happy and inspires me to work as an artist.
Nutcase: How has the helmet design process been thus far and how has it differed from what you anticipated or expected?
Yan Yan: My graphic design background has helped me to imagine things in layers, and I always make sure my ideas are sketched on paper before refining on the computer. My initial stage is always about reading the brief, creating a 'look and feel' board, brainstorming ideas, making pencil sketches and color testings.
Working on a helmet is a new challenge therefore I always look back to my sketches and the brief to re-arrange my thoughts. Once the artwork is in the computer I will do a lot of rearranging until the balance feels right on the helmet template. My thinking and personality has always come through no matter what, so I am really excited to see the work in the finished form.
To view all the submissions we received to the Unframed 2016 helmet design contest, check here. 2015 Artists' Series helmets are coming soon!