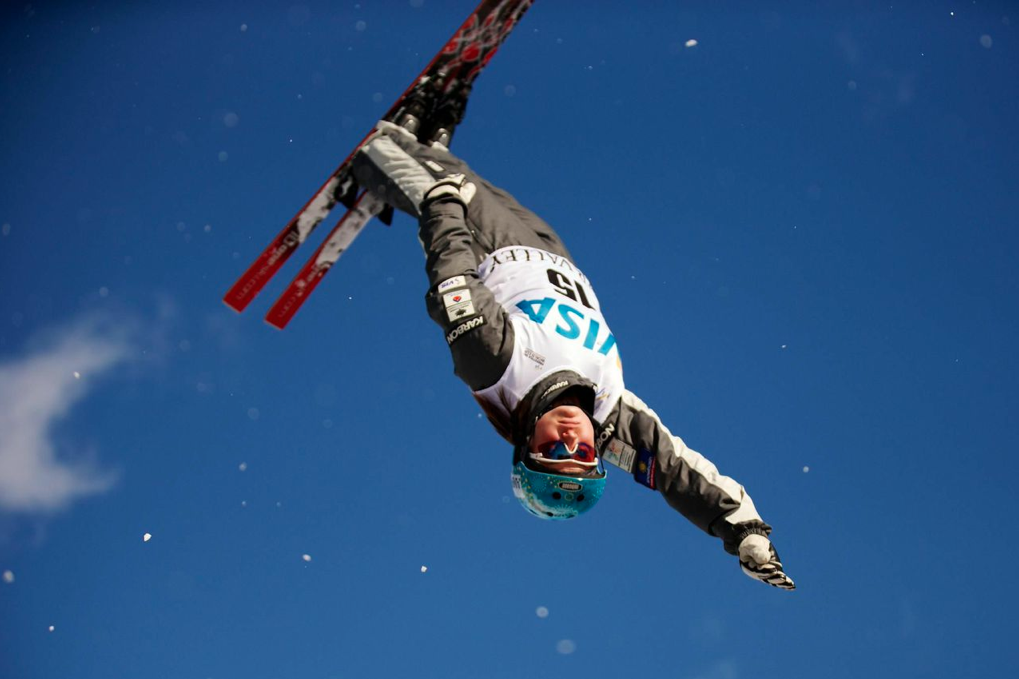 In the Northern Hemisphere, winter is fully here and that means snow fun.
For the athletes that are part of the Aerial Skiing program at the Victoria Institute of Sport (VIS), with helmets and sponsorship from Nutcase Helmets Australia, fun is a full-time endeavor.
The VIS Aerial program recruits athletes with an acrobatic background and then teaches them to ski and jump on snow.
Rachel Johnson, the Aerial Skiing program manager, said the goal of the program is ambitious:
"To prepare ex-gymnasts [with] the skills required to enter World Cup aerial skiing competition."
And they do.  Team member Renee McElduff took home a gold medal in aerial skiing in the FIS World Cup Event at Lake Placid, New York in 2015.
(To read about other aerial athletes and their exploits in Nutcase Snow helmets, click here and here.)
Currently, eight female athletes and two males work together on the VIS team. Harrison Tullberg, a scholarship holder and law student, commented that snow conditions thus far in the 2015-16 season have been amazing.
"The good conditions have facilitated a better environment to improve our skiing skills," Harrison said.
Johnson also commented that the VIS athletes train 
on both snow skiing and jumping, as well as jumping from a plastic jump into the water.  He said they always wear helmets.
"My Nutcase helmet is perfect for going into off-piste and unfamiliar snow terrain, as anything can happen," said Harrison.
Nutcase Snow helmets have a few features that work well for snow jumpers as well as all other levels of snow enthusiasts. We include three sizes of warm fleece lining so everybody can find the perfect fit and keep their heads warm at the same time.
And also, importantly, the Nutcase Snow helmet has a total of 11 air vents to keep heads cool once the action starts. To that end, the soft and snug ear pads are easily detachable.
Lastly, the helmet has a rear-mounted goggle strap holder, and our great, one-handed Fidlock magnetic buckle for an easy on, easy off fit. Also, check out the two newest colors in Snow: Party Pink and Vanilla Sky.
To see more of the fantastic VIS Aerial team in action, see
Harrison's
or teammate
Abbey Wilcox
's Instagram feeds. And happy skiing, snowboarding, sledding or whatever other snowy sport you favor!