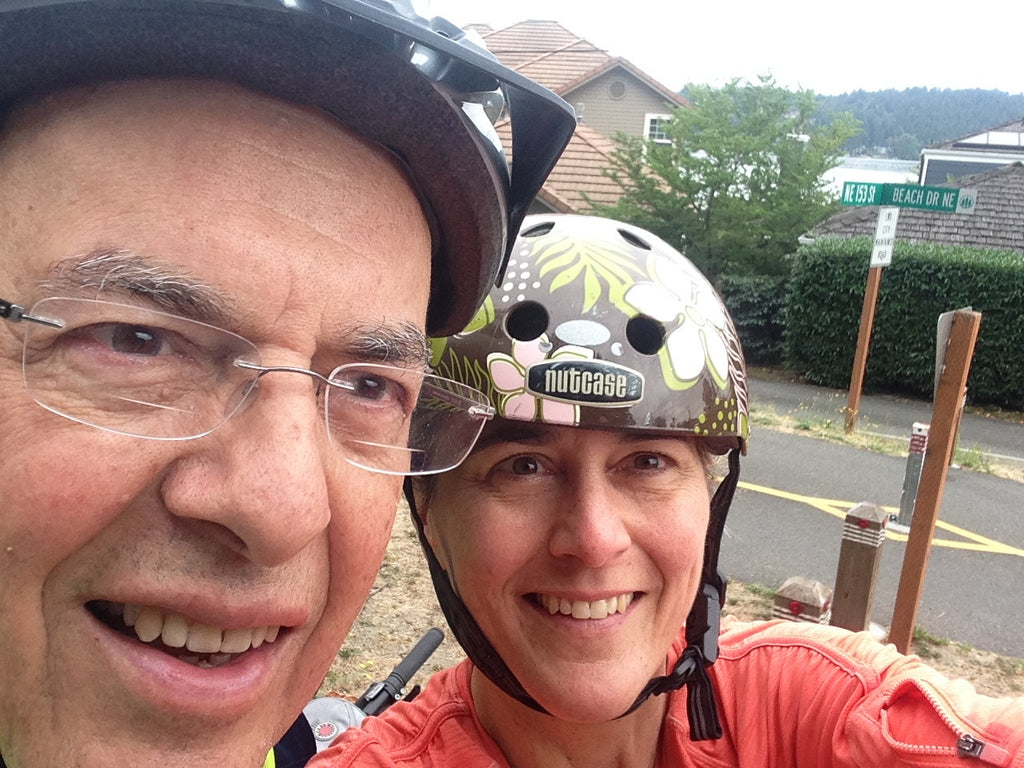 Andrea Learned is a climate action communications strategist and writer, with a 30 year history of city biking while living in places like Portland, OR, Burlington, VT and now, Seattle, WA.  An avid fan of Nutcase, she reached out to us this year to share the inspirational story of her father who just took up cycling again in his 80s.  Find out how he came back to cycling in her piece below...
Back to Biking In Your 80s
I have a vague memory of watching my dad ride off to work one Michigan spring in the early 1970s. I also remember his period of doing that didn't last long. Like so many people who have the benefits of biking firmly in mind, life got in the way.
Fast-forward 40 years, to the regular summer week where our family gathers at a house on Lake Michigan. After watching us kids (all in our 50s by now) and grandkids heading out for fun bike rides on not-so-great rentals after so long, my dad was inspired to get back in the saddle.
So, on his 3-hour drive home from that beach vacation in 2015, he pulled over to a bike shop and bought his first bike in decades. Of course, dad was astounded at just how far the comfort and technology of bikes had come in all that time. Who knew?! 
Never Too Late
My dad has always been pretty active and aware of his fitness, but his later late Type II diabetes diagnoses really caught his attention. Exercise would for then on really have to be intentional. Using weights and doing stretches in the basement was one thing, but being able to head outside on a glorious spring day was a whole other thing.
Here's what he told me:
Sitting on an exercise bike at the health club pales in comparison to riding around Ann Arbor's streets, when the weather allows. I'm seeing my community with whole new eyes and having great conversations when I stop for rests. I am definitely reminded of how much fun I had riding a bike as a kid, but I may get even more out of it now.
Safety First
The other part of this story is that my dad's profession (he retired at the ripe old age of 80) is medicine. He had a long, enjoyable career as a practicing physician, with his last twenty or so being at the University of Michigan Medical School. I bring this up because we kids (there are four of us) always got the safety spiel as we got into new sports or activities growing up. So much so, we often rolled our eyes at him (did other kids have to deal with this?!).
We all likely made it through sporty childhoods thanks to learning about safety from him. And, needless to say, for a guy in his senior years who had tried to help many a bicycle or motorcycle accident victim in his work, safety while bike riding was of the utmost concern.
This is how he put it:
Back in my days in hospital ERs, we used to call bikes and motorcycles "donor cycles" out of the sheer frustration that we saw so many needless head traumas. With that background, I definitely made sure my kids had consistent helmet wearing habits, of course! And now, as what I'd call a "senior cycler," a fall of any sort can easily turn into something much more serious. A helmet adds a significant layer of protection, so I'm happy that the technology keeps improving and their styles are making it hipper to be seen wearing them!
Exercise, Freedom, and Fun
If you are reading this, you're likely already in the bike riding "choir." But, perhaps you hadn't yet thought about the difference it might make to encourage an older family member to give it a try. Watching my dad get re-energized about exercise, in general, and seeing the whole new perspective it gives him on his Michigan community, has been magical. His "gamification" gene has also emerged. Like so many fitness app-focused people today, dad loves to keep me posted on how many miles he's now riding via regular text messages.
Finally, and most selfishly rewarding from MY perspective, his biking means we have a whole new fun activity to do together when my parents visit me in Seattle (golf is the go-to activity with my mom). Last summer, we rode a decent stretch of the Burke Gilman trail. After a leisurely ride and broad-ranging conversation, we stopped at a lovely trail-side bistro to meet up with mom for Sunday lunch. You can't beat that.