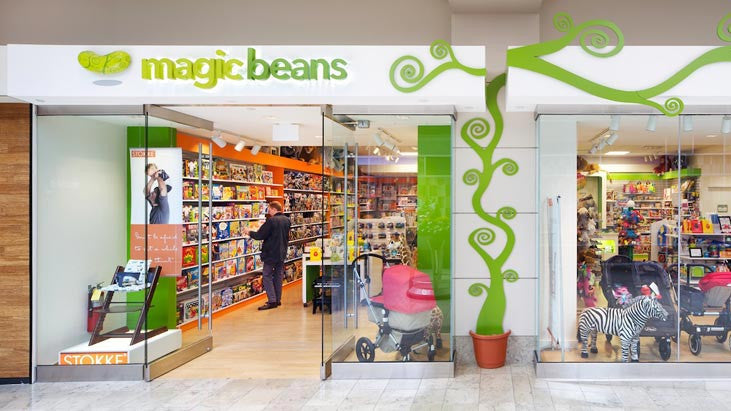 Magic Beans is a great source for fun & safety for babies and kids. With six New England-area stores and on their website, mbeans.com, customers find a handpicked collection of kid-tested toys and the best selection of strollers, car seats, and other baby essentials. 
Magic Beans states "Our mission is to make your life easier, so along with our extraordinary assortment, we've trained our Toy Whizzes and Gear Gurus to pair you with the perfect products for every age and stage." Whether you're compiling your first baby registry, searching for the perfect stroller, or looking for a last-minute gift for the tenth birthday party your kid has been invited to this month, their staff are here to help! And they even wrap your gifts for free.
Since they sell oodles of scooters, tricycles, and other ride-ons, they naturally also sell Nutcase! They love how these adorable helmets cut no corners in terms of safety, comfort, and style, making it easy to convince the littles to always wear their helmets while they're having fun. 
We asked Jill Hegstad, Magic Beans Head Buyer, a few questions about the shop.
What new products are you looking forward to having in the shop this season?  We've carried Nutcase helmets for many seasons, but I was super excited for the bicycle bells this year!  We sell a lot of scooters at Magic Beans, and the bells are such a fun accessory. The designs are so cool, and it's a fun little add-on for every kid.
What is a Nutcase top seller in your shop? The Baby Nutty helmets are definitely our best seller, since it can be hard to find a good helmet to fit kids around 1 year old. I'm personally loving the grape leopard!
Does your shop have any nutty traditions or special events that you sponsor? We just celebrated our 12th birthday on July 7. We celebrate every year with decorated stores, cupcakes, a visit from Elmo, and some great in-store deals!