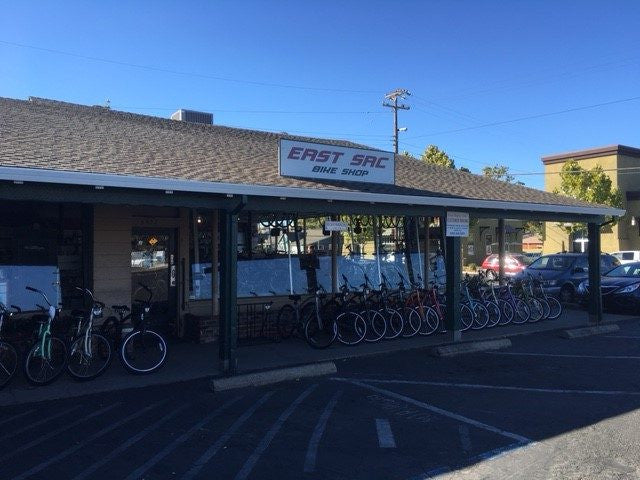 East Sac Bike Shop opened in Sacramento, CA in 2004. Over the years it has established itself as the go-to bike shop for friendly and professional service and sales. As a family-based business, East Sac Bike Shop believes heavily in the next generation of cyclist.  As General Manager John Sandberg says, "Nutcase has helped get more kids, of all ages, away from their iPads and onto two wheels. Something we can all agree we need more of!"
Conveniently located in the heart of East Sacramento, right next to the American River bike path, East Sac Bike Shop caters to all. With four locations throughout the greater Sacramento Region, they are able to help a vast number of new and continuing cyclists.
What new products are you looking forward to having in the shop this season?
We are looking forward to the expansion of the MetroRide Helmets this season – they have been a HUGE hit.
What is a Nutcase top seller in your shop?
For years we have seen the flashier helmets do the best, but in the past 6 months we are seeing the Super Solids be the bigger hits – especially the Metallic Gold!
Does your shop have any nutty traditions or special events that you sponsor?
We do not currently have any nutty traditions. We do a TON of donations to local schools throughout the Sacramento area and almost every kid's bike that leave takes a Nutcase helmet with it.
Thanks Nutcase for making rides safe and fun!